"Those years allow me to smile in the mirror every morning while shaving and reflecting on the deeds we did, the contribution we made and the challenges we shared. USS Scamp, because of her Officers and crew, could do anything, go anywhere and accomplish every assignment. She lives in my memory."

John F. Groth (Rtd. CAPT-USN)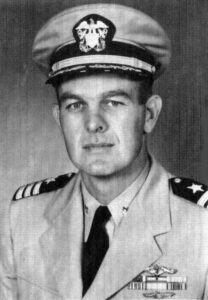 First Commanding Officer, Plankowner
5 June 1961 – 21 December 1962
Walter N. Dietzen, Jr. CDR-USN (Rtd. RADM-USN)
Hailing from Chattanooga, TN, "Buck" graduated from the U.S. Naval Academy in June 1944. After completing Submarine School, he made two war patrols aboard USS Tirante (SS 420) where he served until 1946. He then transferred to USS Raton (SS 270) and USS Baya (SS 318), Executive Officer of the latter from 1952 to 1954. He then went to Naval War College, graduating in 1955, and then to Commanding Officer USS Cubera (SS 347). After tours at the Bureau of Naval Personnel and Naval Reactors, he was assigned in 1960 as Commanding Officer USS Scamp, where he built, launched, commissioned and commanded her until 21 Dec 1962. He subsequently commanded USS Woodrow Wilson (SSBN 624) Gold, from 1963 to 1966.
After graduation from the Industrial College of the Armed Forces in 1967 he served as Deputy Director Submarine Warfare Division, Office of the Chief of Naval Operations; Chief Navy Section, Military Mission for Aid to Turkey; Director Deep Submergence Division, Office of the Chief of Naval Operations and finally, the Deputy Assistant Chief of Naval Operations for Anti-Submarine Warfare. He retired from active duty on August 30, 1975 as Rear Admiral.
In civilian life, Admiral Dietzen was a real estate developer and the West Coat Division Manager of General Physics Corporation. He retired from General Physics Corporation in 1986 and then taught mathematics at the Navy's Broadened Opportunity School for Officer Selection (BOOST).
During his service Admiral Dietzen was awarded the Distinguished Service Medal, the Legion of Merit, the Meritorious Service Medal and the Navy Commendation Medal (2). In addition to his Gold Dolphins, he was entitled to wear the WWII Combat Patrol Pin, or SCPI.
He married the former Ann Tauter of Chattanooga, TN. They had one son, one daughter and four grandchildren.
After the USS Scamp 2003 Reunion in Reno, NV, Buck said "I've been to a lot of reunions, but that one was the best!"
Admiral Dietzen went on Final Patrol on October 22, 2005 and was laid to rest at Fort Rosecrans National Cemetery. He is survived by Ann and their children and grandchildren.
(Admiral Dietzen's biography was reproduced from the USS Scamp Deactivation Ceremony Booklet)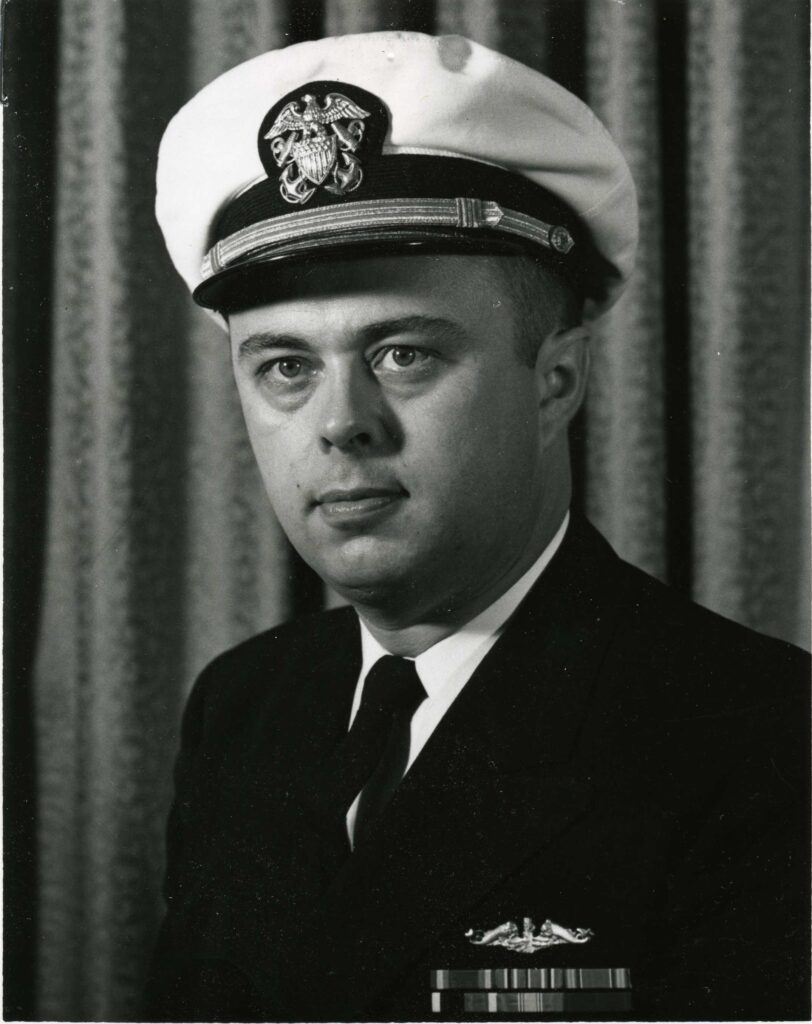 Second Commanding Officer
21 December 1962 – 13 December 1963
Robert Crispin, Sr., CDR-USN (Ret. CAPT-USN)
Born in Elvira, NY, he achieved Eagle Scout and went on to be an assistant scout master for Troop No. 362. He attended the Naval Academy, and served in the Navy during World War II, Korea and Vietnam Wars. He was an Engineer Officer aboard the USS Nautilus. He commanded USS Seawolf (SSN 575), USS Scamp (SSN 588) and USS Nathaniel Greene (SSBN 636). He was the key speaker at the decommissioning ceremony for Nathaniel Greene. He also was CO of USS Raleigh (?).
He and his wife Carol J. Crispin were parents of Robert E. Crispin and Robyn Crispin Butler, and had 5 grandchildren.
Captain Crispin passed away November 13, 2001 in Virginia Beach, VA. He is buried at Colonial Grove Cemetery in the same city.
(Biographical information was extracted from his obituary)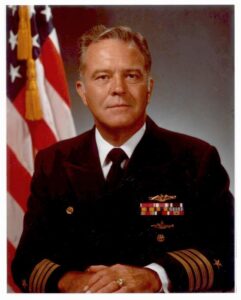 Third Commanding Officer
13 December 1963 – 23 July 1966
A. J. M. Atkins, CDR-USN (Rtd. CAPT-USN)
Born in Selma, AL in 1926, Captain Atkins' service career spanned from February 1944 until July 1979. The portrait at right was made in Pensacola, FL in 1978.
Tommy wrote: "In the summer of 1945 the day I arrived at the Naval Academy, one of the first officers I saw was a tall Commander in dress whites, with sword and white gloves. He had lots of ribbons and wore wings and DOLPHINS! I was greatly impressed. I later found out that he was Commander Walt Ebert, who had completed six very successful war patrols as commanding officer of the first Scamp, USS Scamp (SS 277)!
After graduating, I spent two years in destroyers before sub school. Tours in CUTLASS, VOLADOR and PICKEREL (were followed by) nuclear training and XO of PLUNGER and PERMIT. Then the fun began …CO of USS SCAMP (SSN 588)!!
Buck and his great crew did a terrific job of getting things going on the right track. I always felt a strong obligation to keep the faith. Looking back, I think we did a pretty good job. Those were the best two years of my career, all made possible by the finest submarine crew ever assembled (though I wasn't sure when on one of the first nights I was aboard, someone stole the door to the officers shower!). Things went from good to better!!
We had a good WestPac tour and several fleet exercises while we were "Stars" – at least we thought so! We were awarded the Battle Efficiency "E" for two years in a row, even when we were in the shipyard for half of one year.
Just the fact that we stayed together as we did during that SUBSAFE overhaul is a tribute to the quality and dedication of our great crew (Ed. note: although some of necessity had to transfer to other boats, through no wish of their own).
Thanks, Men and Families of SCAMP! I'll always love you!
I went from SCAMP to CO DANIEL WEBSTER, then Air War College, SUBPAC Staff and Commander SUBMARINE SQUADRON THREE, in San Diego. Once again, the star of the squadron was USS SCAMP!
I ended my submarine duty as Chief of Staff to COMSUBPAC in Pearl. I had a ball, but the best was the two years you made so great for me on SCAMP!
Post-Navy Life
Since retiring I have played a lot of golf, done some traveling and become legally blind. Martee and I have had our share of medical problems, but as they say, "Old age ain't for sissies", so we are hanging in there! As you can see, the one thing I never learned to do was type2.
My very best to all with everlasting love and admiration. Thanks for the memories!!"
Tommy Atkins, Capt. USN (rtd.)
Legion Of Merit (2 Awards)
Meritorious Service Medal
Navy Commendation Medal
Air Force Commendation Medal
American Campaign Medal
World War II Victory Medal
Ed. Footnotes:
1. Tommy lost Martee soon after he wrote this to us.
2. Tommy's letter was done on a manual typewriter and was reflective of his blindness.
Fourth Commanding Officer
23 July 1966 – 19 April 1969
John F. Drain, CDR-USN
Born: 20 January 1931 in Akron, OH
Naval Service Dates: 3/1953 – 7/1979
Office Of The CNO (OP-616)
CO, USS Orion AS-18
COMSUBDIV 102 / DEPCDRSUBRON 10
Naval Reactors (NAVSEA 08)
USS Scamp SSN-588
Awards
Legion OF Merit
Meritorious Service Medal (3 Awards)
Navy Commendation Medal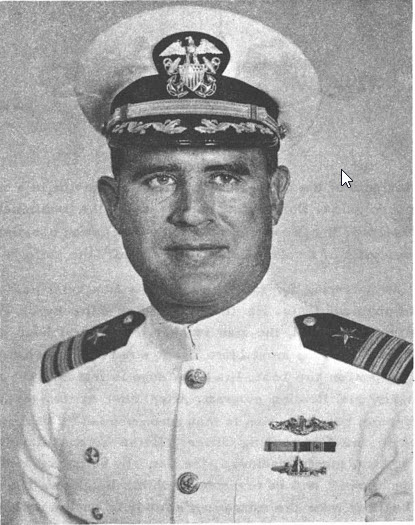 Fifth Commanding Officer
19 April 1969 – 3 February 1973
Dickinson M. Smith, CDR-USN (rtd. RADM-USN)
"In the summer of 1968, when I returned from being a rider on a Spec Op on USS Lapon, I was expecting to report to the Bureau of Personnel for several weeks until orders were prepared. On arrival, I was given orders to be the Prospective Commanding Officer (PCO) of USS Pogy, which was being built in Pascagoula, Mississippi. Normally, one went to tactical PCO school on the coast where the ship was to be home ported and then went to Adm. Rickover's PCO school in Washington, D.C.
In my case, however, the need for a PCO on Pogy was so urgent that I was sent directly (the following Monday) to Rickover's school and was told I would have to skip tactical school altogether. Within weeks there, it was obvious that Pogy was delayed again and I was far too early. After Rickover's school I was sent to tactical PCO School in New London without knowing where I would go to command. Near the end of that schooling, I arranged for my household goods to be packed and picked up with the promise I would know where to send them before they left the house. And, indeed, I was ordered to Scamp at the last minute.
Scamp was a wonderful assignment; the only downside was that when I took command, the ship was nearly out of fuel so we seldom went to sea for the last several months before the refueling overhaul.
After overhaul we made up for the slack time we had had earlier by going to sea most of the next two years. There was nothing we were unwilling to do and we were fairly successful with our assignments. I have many fond memories of my time with the ship and, primarily, fond memories of the guys I served with. We worked hard and we had fun together.
The Scamp tour was the highlight of my career. Follow on tours included a two year stint with Rickover, duty in Sardinia, Squadron Command and Chief of Staff at Sub Pac. I was fortunate enough to be selected for Flag rank and served six years in Flag assignments before retiring in 1986. As a civilian I worked in the nuclear power industry until 2003, with eight years as Chief Nuclear Officer for PECO Energy and some consulting assignments after retiring from PECO."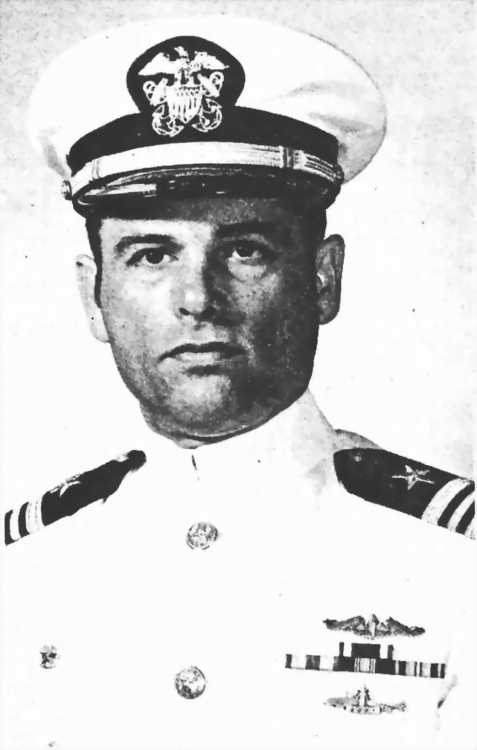 Sixth Commanding Officer
3 February 1973 – 1 July 1976
Daniel B. Branch, Jr, CDR-USN (Rtd. CAPT-USN)
As a junior officer right out of the Naval Academy, Dan Branch served as Weapons Officer on USS Bigelow (DD-942), and had a second surface tour on USS Bainbridge, at that time DLGN-25. Later it became CG-25. Timing was good and he made the first six month Mediterranean deployment on Bainbridge with Enterprise and Long Beach.
He made four deployments in his first four years in the Navy. Dan said, "It was great since I was still a bachelor and did not marry until aboard my first submarine."
Submarine training was next, and subsequent tours included USS Gato and USS James K Polk. Lieutenant Commander Dan Branch took command of USS Scamp in January 1973 and served as Commanding Officer until July 1976. Home port at the time was San Diego. He was the youngest and most junior nuclear submarine CO for nearly two years. During his tour, USS Scamp conducted a six month deployment to the Western Pacific which included two Special Operations, spent 15 months in Pearl Harbor Naval Shipyard for overhaul, and conducted operations in the eastern Pacific for the remainder of the tour.
Some interesting operations and activities included certification of the then new S-3 aircraft, shooting MK 48 torpedoes for the first time on Scamp, shooting more exercise torpedoes than any other submarine during the tour, hosting SECNAV for presenting his engineering excellence award in l976, conducting a fun dependents cruise off San Diego, helping a Destroyer in San Diego prepare for and pass their first OPPE (non-nuclear ship engineering exam), training with USS Enterprise in order to conduct the first WestPac joint deployment as full time member of the Battle Group, and winning the Battle Efficiency E two years in a row. One of Dan's finest memories is the relationship he and the crew had with Tommy Atkins, who was SUBPAC Chief of Staff for much of Dan's tour. He had been CO Scamp earlier.
After Scamp, Commander Branch served at the Naval Academy as a Battalion Officer and member of the Board of Admissions, then joined COMSUBRON 16 as Deputy Commander in the newly opened base at Kings Bay, Georgia. Nothing existed at the base when the new staff and tender arrived, and the next 3 years were spent developing the base infrastructure and getting the Squadron settled after transfer from Rota to the USA in l979.
Follow-on tours were as Commanding Officer, USS Orion (AS-18) in La Maddalena, Italy, Deputy Chief of Staff for Tactical Readiness and Training at COMSUBLANT HQ, and finally as Arms Control Advisor on the staff of SACLANTREP EUR in Brussels, Belgium. An interesting twist of fate here, Dan said "I relieved Dick Smith as CO in 1973 and then later (mid-80s) we were both in Norfolk. Like me after Scamp, he had a tour in La Maddalena. He was a RADM then on SACLANT staff and was responsible for me getting the job in Brussels in 1987-1989, which turned out to be very interesting professionally and quite enjoyable for the family."
Post-Navy Life
After retiring from the Navy in 1989, Dan went to work for EG&G, Inc., and later for Kaiser-Hill, Co., LLC to clean up and shut down the DOE nuclear weapons plant (Rocky Flats) near Denver, Colorado. After 13 years there and responsible for startup and shutdown of the four major nuclear facilities, he shifted to part time consulting and lots of skiing and travel. Dan said "I do not have any trouble staying busy since I continue to be a Foundation member at the Naval Academy, am President of the Naval Academy Alumni Association in Colorado, and am Rocky Mountain Regional President of the Navy League of the United States. I sit on a couple of congressmen's advisory boards, and enjoy sitting on their selection committees for candidates for the military academies."
As a personal note, Dan said, "I lost my wife Sheila who had been with me throughout my submarine career in 2000, but remarried in 2003 to Kathleen. We make our home in Boulder County, Colorado. My address is 555 Apollo Drive, Boulder, CO 80303-5002. The email is [email protected] and the telephone is 303-499-0337. I would really enjoy hearing from shipmates and others in the Scamp family. It always had a great reputation". Dan Branch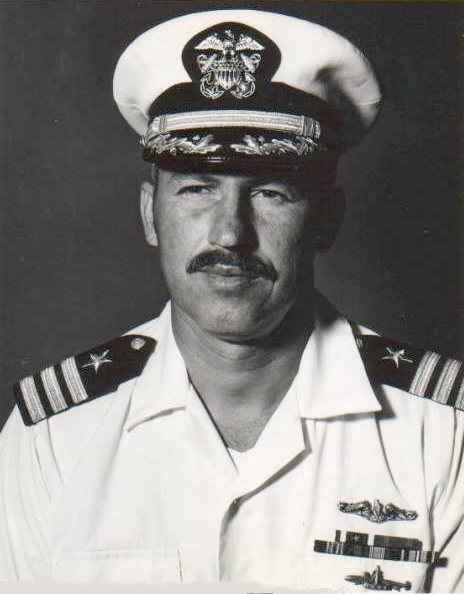 Seventh Commanding Officer
1 July 1976 – 5 April 1979
John F. Groth, CDR-USN (Rtd. CAPT-USN)
Upon graduation from high school in 1955 I enlisted in the United States Navy as an Electronics Field Seaman Recruit. In 1956 I successfully competed for a Fleet appointment to the United States Naval Academy. I graduated in 1960 and was assigned to the USS Eversole (DD-7899) home-ported in Yokosuka, Japan. In December of 1960, after Anti-submarine Warfare School, I married Joan C. Steelman and rejoined my ship. After 18 months of unsuccessfully chasing submarines and noting that they had complete freedom of action after submerging, I applied for submarine training. During submarine school I was selected for nuclear power training. In 1964 I joined the commissioning crew of USS Henry Clay (SSBN 625), earned my dolphins, qualified as an Engineer Officer and was transferred to USS Lafayette (SSBN 616) as Navigator and third officer in the first all nuclear SSBN wardroom.
Subsequent assignments as Operations Officer Commander Submarine Flotilla Six, acting Executive Officer USS Henry Clay and Executive Officer USS Lafayette (SSBN 616) completed my preparations for submarine command. In 1976 I was ordered to the Submarine Command Course in Norfolk Virginia as prospective Commanding Officer USS John Adams (SSBN 620) Gold. During the course of instruction I was recommend for command of an attack submarine, my desire since 1964. In a family conference with my wife and three children, with the list of available attack submarines in hand, our choice was assignment to USS Scamp (SSN 588) home ported in San Diego, California, and so I became lucky number seven in July 1976.
On a new coast, with a new, to me, ship type, I had a steep learning curve. I was blessed with a tremendously talented wardroom and highly qualified crew, supplied by my predecessor, Dan Branch. The Executive Officer, Mike Raggett, was the most professional submarine officer I ever served with. The Engineer Officer, Rich Stark, was the best ship handler I ever observed, and Chief Andy Lawyer, Chief of the Boat, the provider of the sagest advice imaginable. A month after assumption of command we deployed for WESTPAC with orders from the Squadron commander; "Have fun!" The deployment was highly successful. In the subsequent twelve months the ship was awarded the Battle Efficiency "E" in direct competition with 637 and 688 class submarines, given a no-notice operational reactor safeguards examination (the first ship in the class so honored); and on ten days notice, assigned to complete a circumnavigation of South America with UNITAS, ending the trip with a homeport shift to New London. Scamp was the first nuclear submarine to complete the entire circumnavigation with UNITAS.
In March 1979 I was transferred to my first shore duty as Commanding Officer Naval Nuclear Power School at Orlando, Florida. In 1982 I took command of USS Fulton (AS 11).
In 1984 I retired from active duty and pursued a career in civilian nuclear power.
Post-Navy Life
During my first civilian job with the Institute of Nuclear Power Operations, an organization dedicated to improving the safety and operation of commercial nuclear power plants, I inspected more than 70 commercial power plants throughout the world including communist Russia, China, Pakistan, Finland Sweden and Mexico. Next Joan and I relocated to Palacios, Texas, as Vice President Nuclear Operations South Texas Nuclear Operating Station. After eight rewarding years we accepted a position as Chief Nuclear Officer for Consolidated Edison of New York. In 2001 we returned to our friends in Palacios doing volunteer work primarily to benefit the youngsters in the community. In 2010 we retired to an adult community in Griffin, Georgia, a location centrally located between our children's families and the seven magnificent grandchildren.
Note, for a short period four of the family were on active duty simultaneously; myself, Lisa as a line Lieutenant, her husband John as a Lieutenant Commander Submarines, and son John as an Ensign Naval Aviator.
Joan and I are in good health; we spend our time volunteering in the community, biking, swimming, and traveling to see the magnificent seven.
My years in Scamp were the most professionally challenging and rewarding years of my career. The professionalism of the officers and crew set a standard for performance for the officers and crews of my subsequent commands and their civilian counterparts. The unswerving dedication, indefatigable sense of humor and willingness to attempt every challenge of Scamp's personnel have been my inspiration in every subsequent professional and personal challenge.
My family accepts the lack of detailed information about my years on Scamp. Those years allow me to smile in the mirror every morning while shaving and reflecting on the deeds we did, the contribution we made and the challenges we shared. USS Scamp, because of her Officers and crew, could do anything, go anywhere and accomplish every assignment. She lives in my memory. I still experience a chill remembering the first "Last man down, hatch secured, permission to dive the ship" I received as her Commanding Officer.
John Groth, January 2005.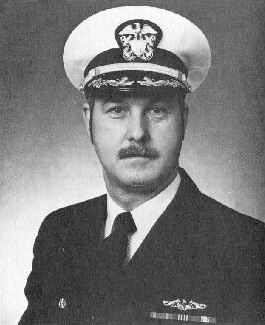 Eighth Commanding Officer
5 April 1979 – 20 July 1982
Ralph Schlichter, CDR-USN (Rtd. CAPT-USN)
Ralph Schlichter was born in Wupertal, Germany January 28, 1943. He is a graduate of Dan McCarty High School in Fort Pierce, Florida. He was commissioned an Ensign in the US Navy after graduation from the US Naval Academy in 1964.
Upon completion of nuclear power and submarine training in March 1965, Commander Schlichter was assigned to USS Casimir Pulaski (SSBN 633)(Blue), where he served as an engineering division officer until March 1969. His next assignments included tours as Engineer Office aboard USS Robert E. Lee (SSBN 601)(Blue) and USS Casimir Pulaski (SSBN 633)(Gold). He was awarded the Navy Achievement Medal during the latter tour.
From November 1972 to May 1975, Commander Schlichter was assigned to the staff of the Commander in Chief, U.S. Pacific Fleet, as a member of the Naval Nuclear Power Examining Board. Following this tour he was assigned as Executive Officer of USS Omaha (SSN 692), during construction and for six months following commissioning. Following this tour he completed Prospective Commanding Officer training at the Division of Naval Reactors, in Washington, D.C. and at Commander, Submarine Force, U.S. Atlantic Fleet facilities in New London, Connecticut and Norfolk, Virginia, reporting to USS Scamp in March 1979.
From Scamp, Commander Schlichter went on to Prospective Commanding Officer of SSN 708.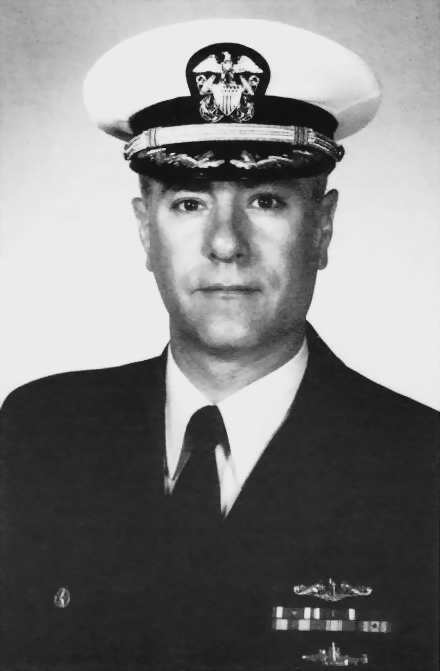 Ninth Commanding Officer
20 July 1882 – 15 July 1985
Thomas P. Guilfoil, CDR-USN
Born in Pittsburgh, PA in 1941, Thomas "Tim" Guilfoil graduated from St. James High School and enlisted in the United States Navy in August 1960.
He served in USS Cubera (SS 347), received training in Nuclear Power and served in USS Patrick Henry (SSBN 599) Blue. In 1964, he was selected to participate in the Navy Enlisted Scientific Education Program and attended the University of Oklahoma in Norman, Oklahoma. He graduated in 1968 with a BS in Engineering Physics and went on to Officer Candidate School in Newport, Rhode Island, after graduating from which he was commissioned as Ensign in the US Navy.
Upon completion of Nuclear Power Training at West Milton, New York, Tim attended the Submarine Officer Indoctrination Course (SOIC) at New London, Connecticut and was assigned to USS Guardfish (SSN 612), where he served from July 1969 until May 1972. In December 1972, upon completion of the Submarine Officer Advance Course (SOAC), Guilfoil was assigned as Engineer Officer of USS Kamehameha (SSBN 642)(Gold) where he served until December 1975.
From January 1976 to July 1978, Commander Guilfoil was assigned to the Staff of the Commander in Chief, U.S. Atlantic Fleet, as a member of the Nuclear Propulsion Examining board. Following this tour he reported to USS Jacksonville (SSN 699) Pre-commissioning Unit to serve as Executive Officer until September 1980. He then served as Executive Officer of USS Billfish (SSN 676) from October 1980 to December 1981. Following this tour, he completed Prospective Commanding Officer Training in Washington, D.C., New London, Connecticut and Norfolk, Virginia, reporting to USS Scamp (SSN 588) in June 1982.
Commander Guilfoil was awarded the Navy Commendation Medal with Gold Star in lieu of a second award, the Navy Enlisted Good Conduct Medal with Bronze Star, the National Defense Service Medal, the Navy Expeditionary Medal, the Battle Efficiency Ribbon and the Navy Sea Service Ribbon with Bronze Star.
As of 2005, Tim is retired and lives in Connecticut.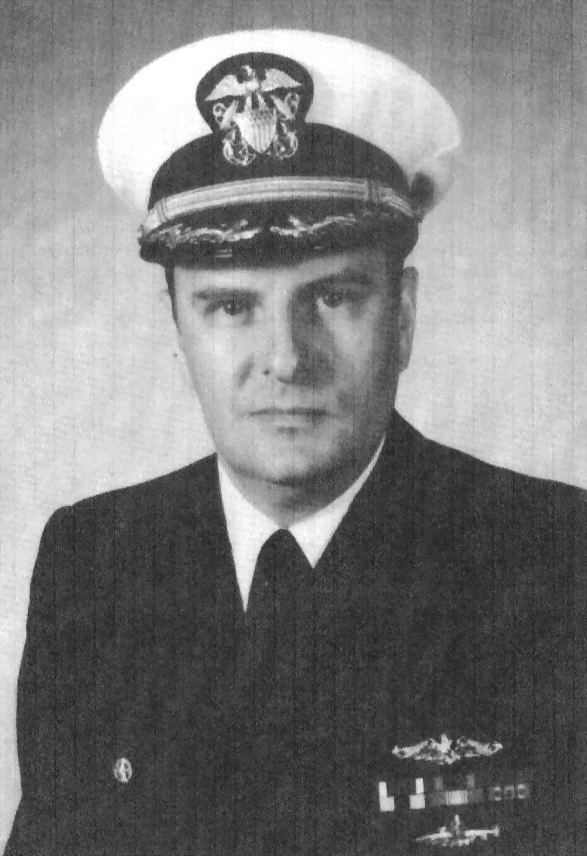 Tenth and Final Commanding Officer (Decommissioning)
15 July 1985 – August 1988
David Duma, CDR-USN
Commander Duma is from Ironwood, Michigan. He graduated from St. Ambrose High School and enlisted in the United States Navy in 1965.
In 1968, Duma was selected into the Navy Enlisted Scientific Education Program, and chose to attend North Carolina State University in Raleigh, North Carolina. He graduated in 1971 with a BS degree in Nuclear Engineering. Upon completion of Officer Candidate School in Newport, Rhode Island, in August 1971, he was commissioned an Ensign in the U.S. Navy.
Following completion of Nuclear Power Training, Commander Duma was assigned to USS Guardfish (SSN 612), where he served from July 1973 until September 1975. He completed the Submarine Officer Advanced Course in April 1976 and was assigned as Engineer Officer of USS Alexander Hamilton (SSBN 617) (Blue), where he served until January 1980.
From February 1980 until November 1981, Commander Duma served as assistant director of the Tactics Department of Naval Submarine School, Groton, Connecticut. In November 1981 he reported to USS Pargo (SSN 650) to serve as Executive Officer until November 1984. Following his tour he completed Prospective Commanding Officer Training and reported to USS Scamp (SSN 588) in June 1985.
Commander Duma has been awarded the Navy Commendation Medal, the Navy Achievement Medal and the Good Conduct Medal.
(CDR. Duma's Biography is from the USS Scamp (SSN 588) Deactivation Ceremony Booklet, dated 7 August 1987.)